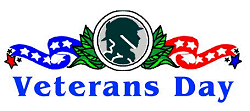 CLASSROOM ACTIVITY

Have students write biographical poems about a soldier by completing each of the following lines of the poem. This classroom activity is adapted from a lesson plan by Nancy Haugen of Arizona.
* Line 1: Soldier
* Line 2: Four words describing what a soldier is expected to do (teachers can specify that the words be adjectives, gerunds, etc.)
* Line 3: Who feels . . .
* Line 4: Who needs . . .
* Line 5: Who fears . . .
* Line 6: Who loves . . .
* Line 7: Who thinks . . .
* Line 8: Who believes . . .
* Line 9: Synonym for "soldier"
Honoring Our Veterans through Poetry Prewriting
In this ReadWriteThink lesson, students in grades 6­8 write poetry in honor of the men and women who have served in Americašs armed forces.

Wartime Poetry
In this 3­5 ReadWriteThink lesson, students use wartime images of children to write poetry expressing the emotions they imagine those children felt. For this day, the activity can be repeated using images of veterans.

A Picturešs Worth a Thousand Words: From Image to Detailed Narrative
This ReadWriteThink lesson plan for grades 6­8 asks students to write stories based upon their viewing of a picture. For Veterans Day, have students use patriotic images from the past and present.


Web Links


The Origins of Veterans Day
This site explains how Veterans Day and the ceremonies held on this holiday originated.
Veterans of Foreign Wars: Resources for Educators
Suggestions for various ways in which to commemorate veteransš service to our country can be found at this site.
Department of Veterans Affairs
Links are offered at this site to resources that provide the history of the holiday, photographs of past celebrations in our nationšs capital, and other media used to promote the holiday.
Books:
Pepperšs Purple Heart
Henry, Heather French. 2004.Cubbie Blue Publishing - A Veterans Day Story, NOVEMBER (Hardcover) 0-9706341-0-2
Claire and Robbie learn why we honor veterans on Veterans Day. Claire also learns responsibility after her neighbor rescues her puppy, Pepper. The book is geared toward children in kindergarten through fifth grade.
For Older Students:
Crane, Stephen. 1997. The Red Badge of Courage. Reissue ed. Tor Books.
This classic story tells of a Civil War soldieršs struggle with fear.
Remarque, Erich. 1995.
All Quiet on the Western Front. Reissue ed. Ballantine.
Read the story of a young German World War I soldier in this classic.

Landau, Elaine. 2002. Veteran's Day: Remembering Our War Heroes. Enslow Publishers.
This book helps students in elementary grades learn about Veterans Day in the U.S.

Eulogy for a Veteran




Do not stand at my grave and weep.
I am not there, I do not sleep.
I am a thousand winds that blow.
I am the diamond glints on snow.
I am the sunlight on ripened grain.
I am the Gentle autumn rain.
When you awaken in the mornings hush,
I am the swift uplifting rush
of quiet birds in circled flight,
I am the soft stars that shine at night.
Do not stand at my grave and cry,
I am not there, I did not die.
Author Unknown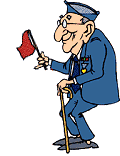 Armistice Day Vision
I saw a cross upon a hill~
A cross like some weird lily;
It marked the place a soldier lay~
It made me creepy, chilly.
I saw a time beyond the cross
When men no longer would
Wage war on one another~
A time of brotherhood.
Alice Crowell Hoffman

Veterans Day
Flags today in tribute wave
For those loyal ones who gave
Of their youth, their hopes. their might
For a cause they knew was right.
Morning bells sound their call.
Pause and say a prayer for all~
All who served valiantly
That men might be ever free.
Taps from quiet Arlington
Echo again.
Ever keep in memory
Peace-loving men,
Who, hating tyranny,
Struggled that liberty
Should for all time be
Won for every land.
Once again the challenge came,
And the answer was the same.
Eager hearts have made it clear
We would guard what we hold dear.
Toll of bells, drums' slow beat-
Silence falls in every street.
In each heart swells the plea:
Keep us safe, but keep us free!
Kate Englehardt Clark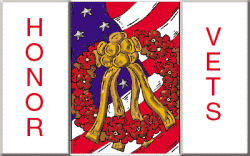 Visit our Patriotic Website~ Click on the Eagle

History of Veterans Day