What We Learned Doing Our Friendship Theme
By: Melissa, Emma V., Joseph, Taylor, Mary, and Brian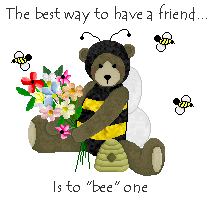 We learned many things doing this theme.
We learned:
not to judge people by their looks or by their color.
that a true friend cares about your feelings.
to treat your friends the way YOU want to be treated.
to help our friends all the time, in good times and bad.
not to fight with our friends without forgiveness.
that if you see a person that is lonely you should go up to them and ask them if they would like to play with you. Maybe they will end up being your friend.
not to make fun of our friends.
you should not force a friend to do something that they don't want to do.
to help our friends with small and large problems.
to stick up for our friends if they get into an argument with someone.
ALL OF US HOPE THAT YOU ENJOYED OUR FRIENDSHIP THEME. WE HOPE YOU GET A CHANCE TO GO BACK AND REVISIT IT. EACH TIME THAT YOU DO, MAYBE YOU WILL LEARN SOMETHING NEW.