Please sign the guest book below.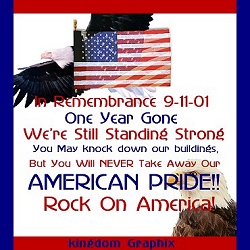 I feel so sad that I want to cry.
Yesterday we painted rocks in school. The colors were red, white, and blue. I'll remember the thousands of heroes. I'll never forget.
We love our country so much. The WTC was a great place for many people. Some people were very kind and helped the handicapped.
I always say my prayers every night so I hope they will listen.
Jessica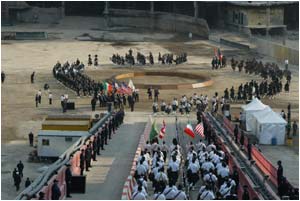 One year later I am still upset. The bad guys where very mean. I hated them. I was watching TV upstairs in my room. I stopped and wrote a little about it. My mom looked at it and checked it .
Demi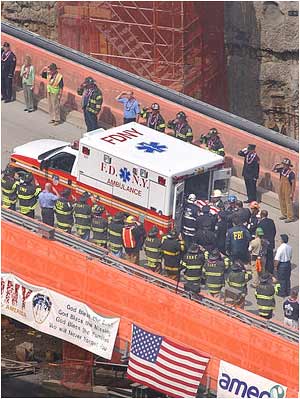 It probably was horrifying for the people who died and who lost their husbands and wives. Know one can know how someone is feeling. If they are sad or mad. We painted rocks and made pins to show respect of September 11th which is 9-11. It was horrifying for me to know that this happened. I don't know why they would do such a thing to us when we did nothing to them. Maybe it is because we have more freedom. I am very upset that they put those planes to crash into the Twin Towers. Why did they crash here?
Last night we were suppose to show the people who died that we remembered them and still cared about them. I don't know if I left a light on. But, I hope I did to show honor and respect to those who suffered and died from the people who crashed the planes.
Dakota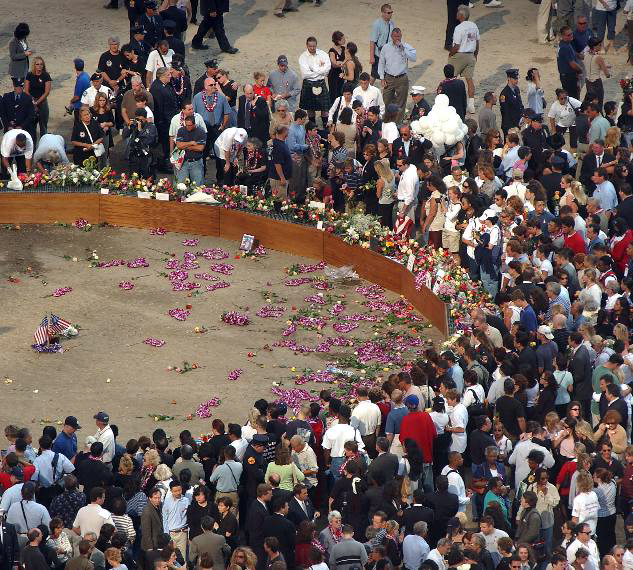 Last year the Twin Towers fell down at the WTC. Heroes went in to save people. I still feel sad. We are united now. I feel bad for all the people who died. I hope it doesn't happen again. This world is special.
Julianna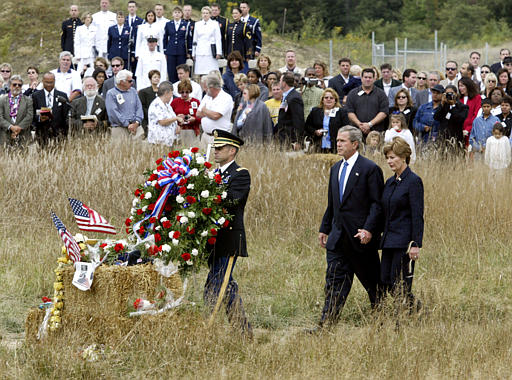 When the Twin Towers collapsed I felt very sad for those people that died. I felt very sad for the Twin Towers, too. When I saw them collapse on TV, it made me collapse, too.
I still am sad about those people who died at the WTC. At my school we painted rocks, red, white and blue. It stood for the people that died. One day I had visited the WTC. It was really cool. I got to see some of the people and what they were doing. It was a lot of work!
Michael D.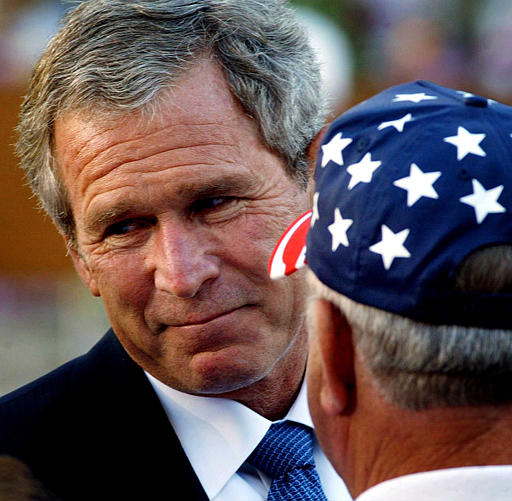 It is one year later since the WTC attack. I feel really bad for my sister's friend because her dad died in the WTC. Now every day all the people that died will not be in their body, but they will be with them in their hearts.
I used to feel happy, but now I feel sad. Some people, like moms and dads lost kids and, husbands and wives. Some kids lost both parents. I really do feel bad for those kids. They will not see their parents again. They may have to go and live with grandparents. I hope they can have a good life.
Some people took a candle and lit it. They had an American flag in their hand. They stood around the tragedy and cried.
Kim C.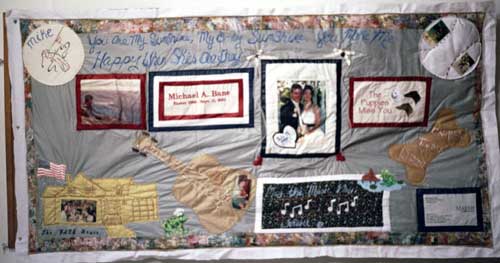 I saw a man fall and I feel sad for the people who died.
Douglas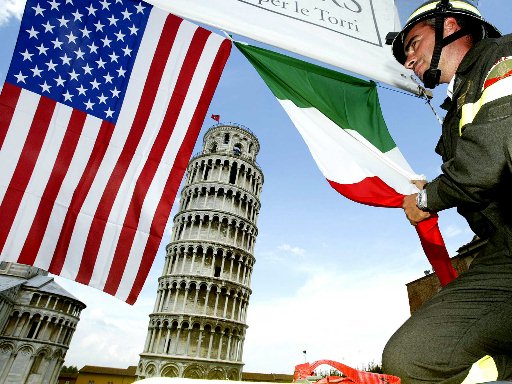 Fire fighters and policemen and women are my heroes. After what happened we are more prepared than ever. We do not trust anymore. After Todd Beamer got off of the telephone with his wife he said, "Let's Roll!"
Every time I hear a plane go by, I look up. I don't know why.
When the flag goes down to the middle of the pole, it means we are sad.
Steven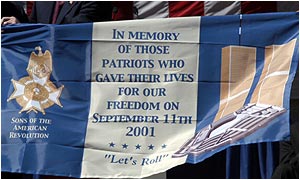 I am very sad because a lot of people died. But one day I was really sad because a bad guy knocked down the WTC.
Kim K.

I'm glad to be an American because I love America!
Matthew

My Aunty worked two blocks away from the WTC and thought she was going to die. I feel so sad for the people in the Pentagon, too.
I still feel upset. I fly a flag at my house. Bad guys last year high-jacked some planes. We painted rocks to remember the people that died in the WTC. A lot of people died in the planes, too.
Nicky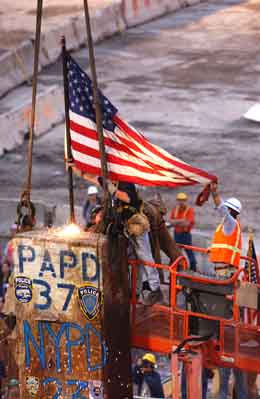 I love the people who were in the Twin Towers. I feel a little better. I hope the families feel better, but a lot better.
Vincent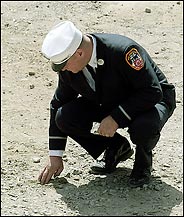 Last year it was very sad. Two planes crashed into the Twin Towers and the WTC collapsed. This year we made pins and painted rocks, red, white and blue. I have a lot of flags in my room.
I went to the city over my summer vacation and I was mad because I did not see the Twin Towers.
Justin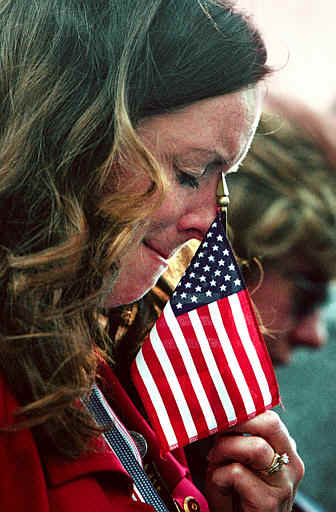 Thousand of people died. The buildings fell down and the people died. Thousand of mommies and daddies, and children were killed. I'm very sad. I put a flag up on my flag pole. I hope people aren't too upset.
Natasha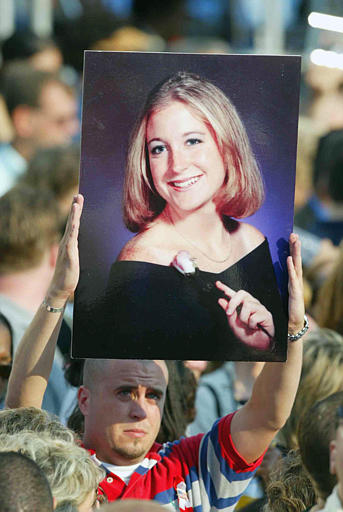 I am still sad because thousands of people died. So we painted rocks for the people who died. The colors are red, white, and blue. I left on a lamp last night because of all the people who died.
Christopher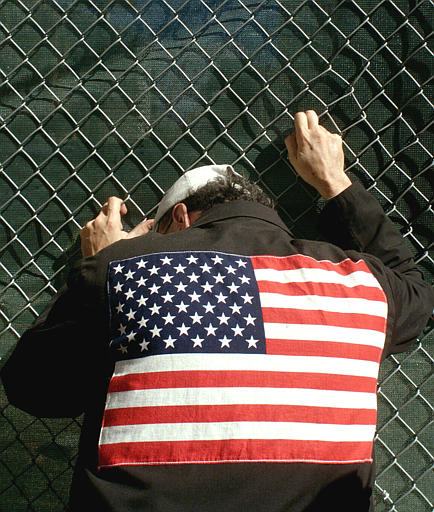 Last year some bad people crashed into the WTC. Today I feel sad because I think they will do it again. I have left one light on every night.
Maxwell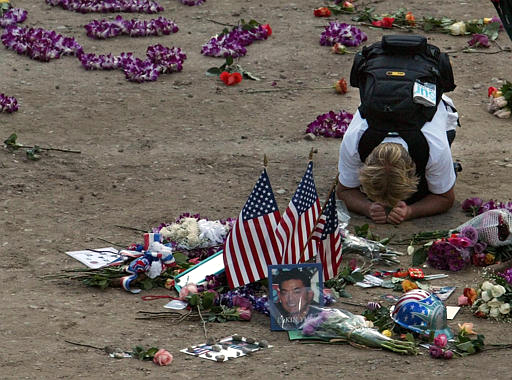 Last year a lot of people died. People all in America and in other countries felt bad, mad, sad and scared.
When I heard about the Twin Towers, I felt the same way as I do now. I feel sad. Like some of the people here. Because of that a lot of people are putting American flags out. It is so bad that all people should never forget. I'll never forget this tragedy. All of us feel sad about it. Maybe we will feel a little better later.
Michael G.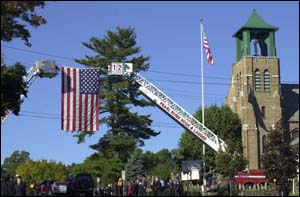 We made pins in class with beads. At home my mom is making a flag in her room and I am making a blanket with red, white, and blue.
Christina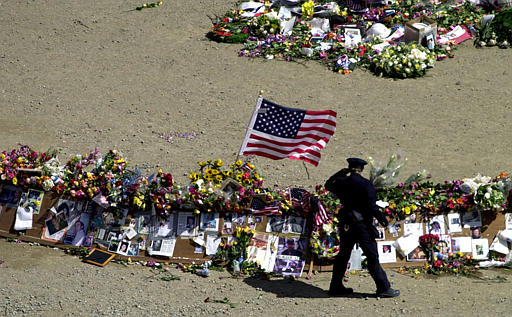 I still feel upset from last year. We painted rocks red, white, and blue. We made 9-11 pins. We might have to go to war. Everybody is putting a lot of flags up. I feel bad for the people who died.
Amy
I am still afraid because I think it will happen again. I don't like the people that crashed into the WTC. But, they did it on purpose! I don't ever want it to happen again.
I miss the WTC. I loved it very much. One day I will go and visit the graveyard of the people who died. Someone died in my family. I really miss her. Her name was Mary.
Annie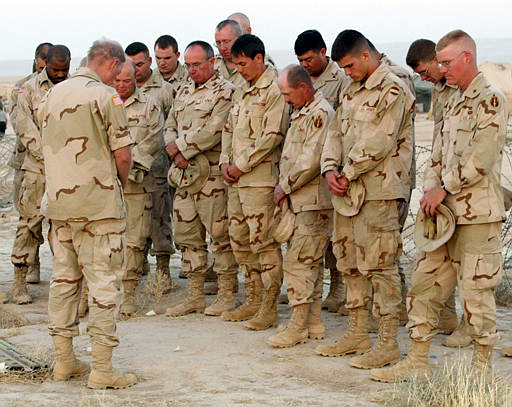 I was so upset about what happened when the towers fell down. My mom's worker died, too. Mom lit a candle, so she can remember. Dad does remember, too. I am so glad they remember all the people. I am still upset that all those people died. Mom was worried and dad, too.
Zack G.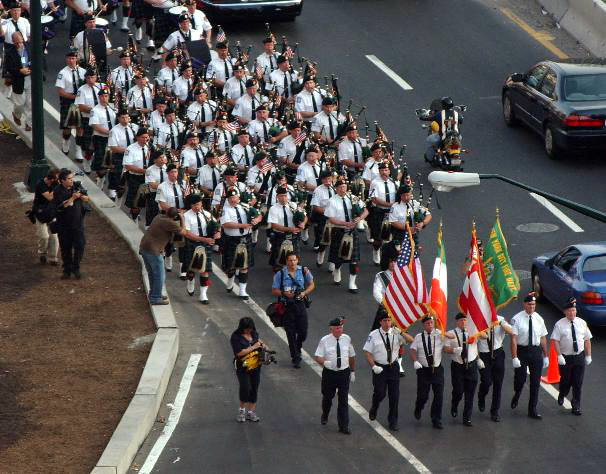 The Twin Towers were my favorite buildings. In fact I went there four times. I miss the WTC, but I feel safe.
Shannon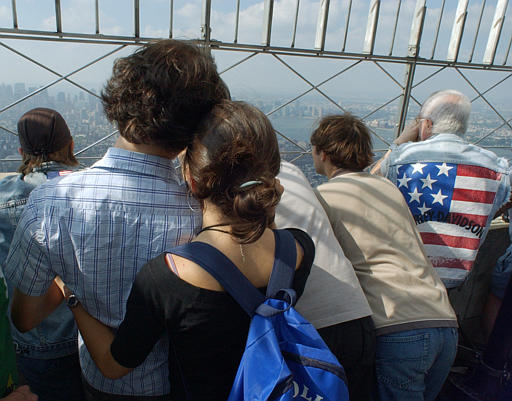 Please go to home page and sign the guest book.