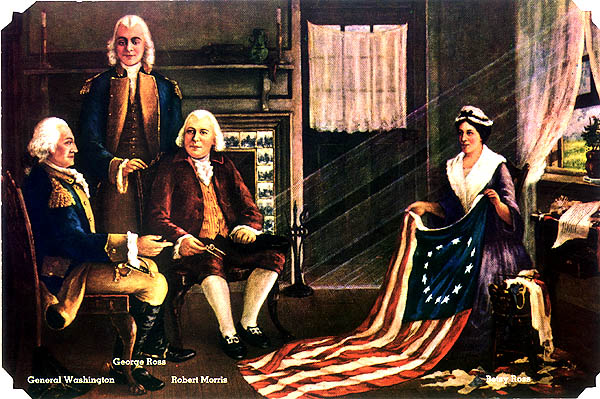 Betsy Ross was born in Philadelphia in 1752. She was a seamstress who shared an upholstery business with her husband, John. John was killed in 1776, in an explosion.

Almost 100 years later at an Historical Society Meeting, Betsy Ross' grandson, William J. Canby, first told what has become a very famous story. He first remembered hearing the story at age 11. His grandmother told him that General George Washington asked her to make the first flag. General Washington suggested a design of 13 stars and 13 stripes. His stars had six points. But Betsy made a beautiful five pointed star by folding a piece of paper and making one little snip. Now, General Washington was very impressed with her. Betsy placed the stars in a circle. The 13 stars and stripes represented all of the 13 colonies. The stars and stripes design was adopted by Congress on June 14, 1777.

For many years historians have searched the government records to prove this legend. Unfortunately, they haven't been able to find any information to confirm this. They have found, though, evidence to indicate that Betsy Ross did make flags for the Pennsylvania state ships.
In a book published by descendants of Betsy Ross wrote that the drawing of Betsy with the Continental Congress, shown above, was painted by an artist who may have been speculating about what had actually occurred. Since this painting is so well known and is shown all over, it is very hard to say it never took place.

Many also believe that Betsy would never have a reason to make up stories. She was a very truthful woman.
During the war, there may not have been time to make clear records of every meeting that had taken place. However, one story does tell of a fellow church member's visit to Betsy Ross' shop after her meeting with the Continental Congress Committee. The visitor saw the star that Betsy had cut out for them, and he asked to keep it. In 1925, his family safe was opened to reveal that same star! In fact it is now on exhibit at the Free Quaker Meeting House in Philadelphia.
Whatever the truth may be, people love hearing the story of Betsy Ross and the making of the first American Flag. It is a part of our history!
Read more about Betsy at the homepage for her: http://www.ushistory.org/betsy/