Happy St. Patrick's Day
St. Patrick's Green
By: Bertha E. Bush
Oh, I love to see the shamrocks
Boys wear March seventeen,
And I love the girls' green ribbons,
And bits of evergreen;
For they stand for brave St. Patrick,
So fearless and so good -
Oh! the Irish ought to love him,
Just as everybody should!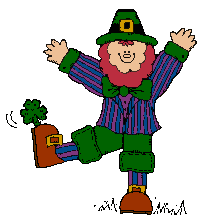 Wearing of the Green
By: Aileen Fisher

It ought to come in April,
or, better yet, in May
when everything is green as green-
I mean St. Patrick's Day.

With still a week of winter
this wearing of the green
seems rather out of season -
it's rushing things, I mean.

But maybe March is better
when all is done and said:
St. Patrick brings a promise,
a four-leaf-clover promise,
a green-all-over promise
of springtime just ahead!

Don't Pinch
By: Bruce Lansky

When I got on the school bus,
I was in for a surprise.
My friends all stared and pointed.
There was mischief in their eyes.

A kid who sat in front of me
reached out and pinched my knee.
My friends all started laughing,
but the joke was lost on me.

And then I got my second pinch.
I felt it on my ear.
And then I felt a third and fourth.
You guessed it--on my rear.

I asked, "Why are you pinching me?
I think it's very mean!"
They said, "Today's St. Patrick's Day
and you're not wearing green."