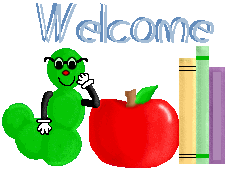 To... Morning Message and Poems
What is a Morning Message?
A morning message is most often in a form of a letter that a teacher writes to his/her students. It begins with a greeting and usually it is signed by the teacher. These messages are written before the students arrive and are read by the whole class at the start of the day. Usually a morning message contains an overview of the day's activities. Some of the activities could include a birthday, special program, a highlight of something to come in the classroom, or just everyday activities.
In this respect, a morning message is one form of a shared reading (a text that the teacher and students orally read together). In addition to the oral reading aspect of shared reading, there is often a follow-up lesson. These lessons are performance tasks for individual benchmarks. This is why you will see many morning messages that will have things circled or underlined or have text written after them. The lesson following the reading of the text is interactive. Many, if not all students should have opportunities to work with the message.
Most language lessons, and many writing lessons, can be effectively taught in the context of shared reading. The following are some examples.

Dear Class,
As you see Mrs. Stein is missing! I have looked all over for her. I can't find her! She is lost.
I would like you to get out your journals and write about what could of happened to Mrs. Stein.
We will share these at 10:00am.
Sincerely,
Mrs. Clock
(Substitute Teacher)
Or...
There are spelling mistakes and the class has to find them when we meet as a group. That is when they circle each word and 'give it a go' to correct it.
Benchmark: Use correct grammar, punctuation, and capitalization.

Body of Knowledge: Edit writing for correct grammar, including run-on sentences….

Dear Clas,

Toda iz Munday, September 27th, 2004. We have rt at 11:40am.

Hapy Birthda, June. Toda you are ate youll find your birthda pensil at the round tabl.

Lunch toda is tacos please dont forget to order you're lunch?

love

mrs stein
Or still...
Dear Class,

Yesterday when I go home my dog Gizzmo had a turtle in his mouth. He wanted to bring it into the house. I told him he couldn't and took the turtle away. I decided to put it back behind the fence.

When I returned to the house, there was Gizzmo, again! He had another turtle in his mouth and was walking up to the back door.

So I needed to once again trek back to the fenced area and place the turtle with his friend.

I felt so sad for Gizzmo that I went out and bought a stuffed turtle for him!

You know, he carried that all around with him every where he went. I'm sure I saw a smile on his face!

Benchmark:

Understand how authors use elements and techniques in literature

Body of Knowledge: Identify story elements
After the class reads the story aloud, the teacher might say something like, "Class, my story contains the same elements that most stories contain. Let's talk about some of these elements."

The class would then look for: characters, setting, events, problem, and resolution, possibly underlining the elements with different colored markers.
Book to order from Amazon: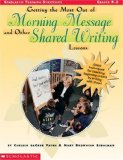 Getting the Most Out of Morning Message and Other Shared Writing Lessons (Grades K-2)
by Authors: Carleen Dacruz Payne , Mary Browning Schulman
Released: 01 January, 1999
ISBN: 0590365169
Paperback



List price: $12.95
Our price: $10.36 (You save: $2.59)
Poems:
Legs
by Aileen Fisher

Two legs for birds
And you and me
Four legs for dogs
And for squirrels in a tree
Six legs for beetles--
Away they go
Eight legs for spiders
What do you know!

The Mitten Song
Traditional

Thumbs in the thumb place
Fingers all together
This is the song we sing in mitten weather

Teddy Near ,Teddy Bear
(I used to recite this while jumping rope when I was young. We followed the actions on the bear sayings.)

Teddy bear, teddy bear,
Turn around,
Teddy bear, teddy bear,
Touch the ground.
Teddy bear, teddy bear,
Dance on your toes,
Teddy bear, teddy bear.
Touch your nose.
Teddy bear, teddy bear,
Stand on your head,
Teddy bear, teddy bear,
Go to bed.
Teddy bear, teddy bear,
Say goodnight,
Teddy bear, teddy bear,
Turn out the light.
Teddy bear, teddy bear,
Wake up now,
Teddy bear, teddy bear,
Take a bow.


Poetry- I would write a poem on chart paper and then laminate. Therefore you can have the students write on the poem and it can be erased or washed carefully. You can also duplicate poems for the student's Poetry Notebook. Many techniques can be used for learning.
You can have students point out the words that rhyme by highlighting them with a colored crayon.
You can circle the words and change them to create a new poem.
You can have students follow a pattern and write a new poem.
You can teach parts of speech by using poetry in your morning message. Visit my website on Poetry Themes or Poetry Links.
You can hang up the poem for a center activity such as Read Around the Room.