INSIDE theme that you may not have used in the
Welcome to Skewl Sites Online
Featuring the best in Educational Web Sites.
Subscribe to the Skewl Sites Monthly Newsletter
Browse the site index online.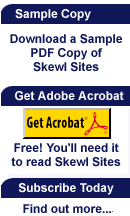 Primary teachers, take note! Mrs. Stein's Second Grade web site has thematic teaching units and samples of student work in just about every area of the curriculum. It is worth sitting up and taking notice of her Online Themes page. That's because Mrs. Stein shares both teacher materials and hands-on stuff for students on her theme pages. Her themes include Bats, Oceans, Fairy Tales, Colour and Light, the Rain Forest and more. If you're planning a new unit these themes are a great starting point. Or, if you'd like to update a theme you've been using for years, you can find web based activities to enhance your theme that you may not have used in the past.
Mrs. Stein's Colour and Light theme is a great example. When you click on the theme, you know right away it's designed to be a kid-friendly learning tool. The black background sets off the colourful title and some flashy graphics. Kids can click on topics such as Rainbows, Mixing Colours, How Light Travels, and more. The font is large and the explanations are clear. Mrs. Stein has used a variety of web resources that provide interactive learning activities and has imported them right to her sight. That way, students don't have to type in web addresses or use bookmarks; it's all right there. Teachers can click on the Teachers' page and see the whole unit plan at a glance, along with suggested books, poems, printable worksheets, etc. And that's just one of the themes!
Another useful section of the site is the page for Parents and Teachers. Here Mrs. Stein shares samples of student writing, math activities and more. The News From Students page is an innovative idea. Each month two students from the class write a news feature about what they've been doing that month. The Luscious Language page contain many good links to language arts activities on the web. I found the poetry samples helpful, as I could take some of the poetry frames she used and adapt it to my own teaching themes. Don't miss this site for practical ideas!
http://www.tooter4kids.com/Classroom/Welcomeindex.htm
HOME | SEARCH | FEEDBACK | ABOUT | SITE INDEX | CURRENT EDITION

Copyrightę Skewl Sites
last modified: February 16, 2007
contact the webmaster