Homework and Questions!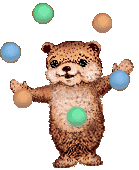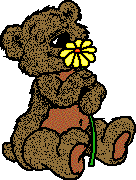 Homework! It always seems that little brother or sister can't wait for homework, while big brother or sister wishes it would just disappear! Homework in second grade is primarily about developing responsibility in our children. They are responsible to bring home the assignment, complete it with a parent's guidance, and then return it. These skills will help to serve the child well later in his/her school life!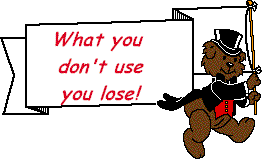 HOW MUCH IS TOO MUCH?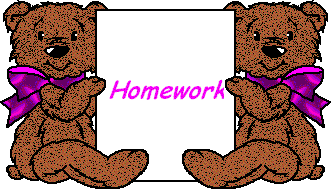 Second graders should spend no more than 15- 20 minutes each evening on homework. That is without reading, of course. If your child is consistently spending more time than this, or if a particular assignment takes considerably longer, please let me know.

A RECIPE FOR SUCCESS -- PARENT INVOLVEMENT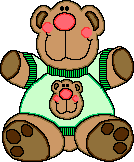 Much of the assigned homework in second grade is designed to be done without family members. Even independent tasks, however, sometimes need parental involvement. Always check your child's work, and sign it. Unless otherwise specified, homework is due the following school day. Parents often wonder, "Should I correct my child's mistakes? How will the teacher know he/she is having a problem?" My advice is, yes, point out the mistakes to your child in a gentle way, and use that opportunity to reteach and clarify the skill. If you would like me to know about a particular problem area, always jot a note, and I'll respond as soon as possible.
Click below:
Homework Policies-please review

HOMEWORK SCHEDULE
(SUBJECT TO CHANGE, OF COURSE!)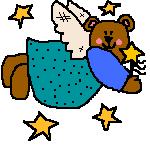 MONDAY - Spelling - The weekly spelling list is given out, with an attached assignment. It is often writing the spelling words 5x each. A reading assignment and a math sheet may also be included.

TUESDAY - Write an extended sentence for each word OR sometimes children like to write a story or poem. Remember, that is perfectly acceptable.

WEDNESDAY - Math. Often the assignment will be a worksheet reinforcing certain math concepts. ABC order of spelling words.

THURSDAY - Varies! Often there will be nothing other than to study for Friday's spelling test and reading of some sort.

FRIDAY - Have a great weekend! But, remember to read on every weekend! Reading is succeeding!!!
I hope this has answered some of your questions concerning second grade homework! Please feel free to contact me about any specific concerns! Click below to read an interesting article regarding homework.
Homework: How Parents Can Help