You get homework every evening. A parent MUST sign the homework each evening.
Please have the child put the homework in his/her schoolbag each evening. We are trying to build responsibility. You, as a parent, are not responsible for doing this.
HOMEWORK CAN VARY EACH WEEK!
MONDAY: Spelling--Read words on the spelling list. Write each word 5 times each. Please remember to do your heading! Math sheet.

Reading: Have your child read a book every night, or at least read for 20 minutes daily.

TUESDAY: Write one sentence for each spelling word. Remember to extend those sentences!

Reading: Read a story. Remember fluency and comprehension count!

WEDNESDAY: Put spelling words in ABC order. Do language sheet. Reading: Read a book and if you like you can write me a letter telling me about it. Your job is to encourage me to read this book!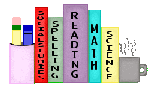 THURSDAY: Have a parent give you a spelling pre-test. Do the math sheet. Reading: Read for 20 minutes or longer.
If your child doesn't get 100% on the spelling test on Friday he/she will have to write each incorrect word 10x for homework on the weekend. If on Monday he/she still cannot spell the word it will be 15x and so on each day.

Any questions please call or E-mail me.

Tooter4Kids@hotmail.com
Spelling Information for Parents