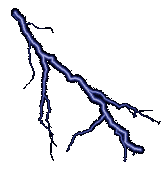 Happy Beary Halloween
By Darby Diana
Spooky bears head outdoors for the treats,
Little goodie baskets they carry to the neighborhood street,
Loaded with marshmallow, chocolate and gum to eat.
Some of us have pretty doll faces,
Other have ugly goblins, full of fright
Carrying a broom or a big orange pumpkin,
We know it's the night to hear howls and screams.
Guess what? Itís another "Happy Beary Halloween night"

I'm a jack o' lantern with a great big grin.
I'm a jack o' lantern with a candle in .
Poof! goes the wind and out goes the light.
Away fly the witches on Halloween night!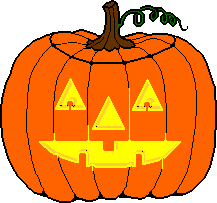 Shadow lit with yellow eyes.
Sky split by its cry.
Night caught in magic
When the owl flies by.
-Tony Johnston

By day the bat is cousin to the mouse.
He likes the attic of an aging house.
His fingers make a hat about his head.
His pulse is so slow we think him dead.


He loops in crazy figures half the night.
Among the trees that face the corner light.
But when he brushes up against a screen,
We are afraid of what our eyes have seen:
For something is amiss or out of place
When mice with wings can wear a human face.
-Theodore Roethke
ON HALLOWEEN

The witches fly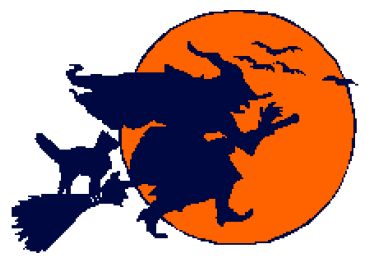 Across the sky,
The owls go, "Who? Who? Who?"
The black cats yowl
And green ghosts howl,
"Scary Halloween to you!"

~Nina Willis Walter~

HALLOWEEN MAGIC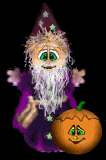 A bald-headed ghost
Drank some witches' brew
And on top of his head
A strange thing grew.

It was pointed and tall
And black as a bat
With stringy long hair
Where his head was flat.

The sad little ghost
Didn't want any hair
Or a black pointed hat
So he said, "Witch beware!"
Then he chanted some words
With a spell-casting switch
And gave Halloween Night

A bald-headed witch!!

~Barbara M. Hales~
IT'S HALLOWEEN

It's Halloween! It's Halloween!
The moon is full and bright
And we shall see what can't be seen
On any other night.

Skeletons and ghosts and ghouls,
Grinning goblins fighting duels,
Werewolves rising from their tombs,
Witches on their magic brooms.

In masks and gowns
we haunt the street
And knock on doors
for trick or treat.

Tonight we are
the king and queen,
For oh tonight
it's Halloween!

~Jack Prelutsky~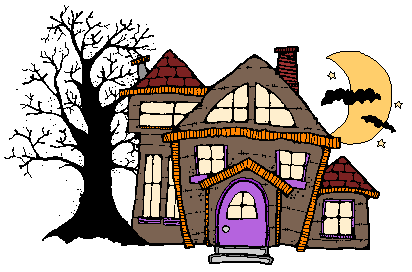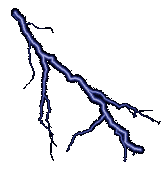 Haunted House


There's a house upon the hilltop
We will not go inside
For that is where the witches live,
Where ghosts and goblins hide.


Tonight they have their party,
All the lights are burning bright,
But oh we will not go inside
The haunted house tonight.


The demons there are whirling
And the spirits swirl about.
They sing their songs to Halloween.
"Come join the fun," they shout.


But we do not want to go there
So we run with all our might
And oh we will not go inside
The haunted house tonight.


~Jack Prelutsky





Haunted House
Spooks


There's a goblin at my window,
A monster by my door.
The pumpkin at my table
Keeps on smiling more and more.
There's a ghost who haunts my bedroom,
A witch whose face is green.
They used to be my family,
Till they dressed for Halloween.

~ Sandra Liatsos
Jack Pre


Black and Gold


Everything is black and gold,
Black and gold, tonight;
Yellow pumpkins, yellow moon,
Yellow candlelight;

Jet-black cat with golden eyes,
Shadows black as ink,
Firelight blinking in the dark
With a yellow blink.

Black and gold, black and gold,
Nothing in between -
When the world turns black and gold,
Then it's Halloween!

~Nancy Byrd Turner

Halloween Magic

A bald-headed ghost
Drank some witches' brew
And on top of his head
A strange thing grew.

It was pointed and tall
And black as a bat
With stringy long hair
Where his head was flat.

The sad little ghost
Didn't want any hair
Or a black pointed hat
So he said, "Witch beware!"
Then he chanted some words
With a spell-casting switch
And gave Halloween Night
A bald-headed witch!!

~Barbara M. Hales