POP CORN!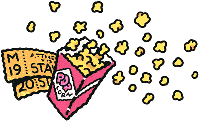 Popcorn

Popcorn kernels
In the pot
Jump and dance
When they get hot.

And when they've
Carried on enough,
They do a flip
And turn to fluff!
~Cathy Drinkwater Better~

Popcorn

When Walker and I bought our movie tickets
And went into the lobby,
There were brown boxes
Stacked seven feet high
And ten feet wide
And twenty feet deep.
You could hardly get by.
What was this cardboard castle?
We took a closer look.
On every box was printed one word.
In small letters:
P O P C O R N
"Could you eat that much popcorn?"
Said Walker.
"I already have," I said.
~James Stevenson~

THE POPCORN KERNEL

I am a popcorn kernel,
On the electric range,
With oil to my ankles,
Waiting for the change.

Pop, pop, it's started happening,
The noise has just begun.
Pop, pop, there it goes again.
It sounds like a lot of fun.,

Explosions to the left of me.
Explosions to the right.
I'm just about to blow my top,
I really think I might.
BANG!!!
~Dick Wilmes~



Popcorn in the Pot (tune: I'm a Little Teapot)
I'm a little popcorn in a pot
Heat me up and watch me pop.
When I get all puffed up, then I'm done.
Popping corn is lots of fun.


Pop, Pop, Pop My Corn

(tune: Row, Row, Row Your Boat)


Pop, pop, pop, my corn,
Pop it big and white.
Popping, popping, popping, popping
'Til it is just right.

Put in the oil.

Fill up the pot.

Plop go the kernels.

Now, wait until it's hot.

Pop goes the first kernel.

Pop goes the next.

Then pop, pop...explosion.

There go all the rest!

Linda Holliman

Popcorn at the movies.

Popcorn at the game.

Popcorn just for snacking.

Popcorn's not the same!

Now it comes in flavors,

Caramel, nacho cheese.

I love all the flavors.

Pass the popcorn please!

Linda Holliman

Write the steps involved when popping corn.

Describe a piece of popcorn.

Invent a day for your favorite food.

Advertise the new holiday.

Make a list of popcorn words.

Divide your list into adjectives, nouns, verbs, etc...

What if popcorn was all you could eat for one week?

Describe a movie from the viewpoint of the popcorn bag.

Would you still like it?