LINKS
Once upon a time stories were told not only to pass on information and customs, but to set examples of heroism and character during extraordinary times.

Many fairy tales had their origins in medieval times, and there was always a moral to the stories.
Please visit the following sites for some great stories. I do plan on my boys and girls, after completing this unit to add their own, with graphics.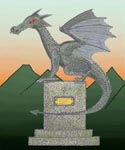 http://www.bedtime-story.com/bedtime-story/dragon.htm
The Far Knight
The Littlest Knight Online Story
Castle Builder - WebQuest for seventh grade students.
Collaborative Thematic Unit
Castles for Kids - learn how people in the middle ages lived, explore castles, build your own creations
The Middle Ages
What's so important about 1066?


CARDBOARD BOX CASTLE:
http://www.EnchantedLearning.com/crafts/Boxcastle.shtml

Start with an ordinary cardboard box for this castle
project. With a bit of string, scissors, and markers,
you can design battlements, turrets, and drawbridges.
Write a class collaborative story with authentic medieval characters to partner your constructions.

JOURNEY THROUGH THE MIDDLE AGES:
http://tqjunior.thinkquest.org/4051/titlepg.htm

Examine a castle, play a game about attaining knight-
hood, or explore all kinds of information on daily life
in the Middle Ages in this Thinkquest Junior web site.

DESIGN A COAT OF ARMS:
http://teacher.scholastic.com/lessonrepro/reproducibles/profbooks/coatarms.pdf

Students will learn the reasons why knights had coats
of arms, and then design their own on these printable
templates.

MEDIEVAL PROJECTS:
http://www.ssec.org/hingham/hhs/library/Medieval_Home2/projects.htm

Students can create their own dramatic presentation
of peoples' roles in the Middle Ages, or how about
making a stained glass window or a coat of arms? Find
these and other project and presentation suggestions
here for completing your unit on the Middle Ages.

GHOSTS IN THE CASTLE:
http://www.nationalgeographic.com/castles/

The ghosts in this thirteenth century castle are the
residents who may have inhabited it at that time.
While visiting the castle students will learn about
defenses, residents, and castle constructions and
functions. A first name is required.

THE MIDDLE AGES:
http://www.esc20.k12.tx.us/etprojects/formats/webquests/summer99/northside/middleages/Default.htm

Students are invited to journey back in time to locate
missing items from King Arthur's Court. They will create
a slideshow or multimedia presentation of important artifacts that clearly illustrate an assigned aspect of medieval life. Several student activities and projects accompany each of four tasks, with a teacher page, extension activities, and sample rubrics included. Excellent links
are provided; try using Leonardo's Multimedia Toolbox for
student presentations, available at:
http://www.riverdeep.net/products/creativity_tools/leonardos_toolbox.jhtml

THE MIDDLE AGES:
http://www.learner.org/exhibits/middleages

This Middle Ages exhibit provides a solid, fascinating
look at medieval life, including religion, the feudal
system, daily living, women's roles, and housing.

Some links are credited to:
THE CLASSROOM FLYER
From Riverdeep
Wednesday Edition Focus: Grades 4-6