Links

Lesson Plans, Activities, Experiments
A Magnet Experiment Grades K-2
Students will answer the question: Will magnetism pass through glass? Wood?
About Magnets Grades Primary
Students will be designing a magnet from a sewing needle and making a compass
Brain POP Animations - Magnets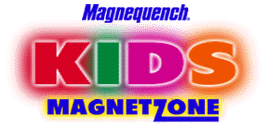 Magnet Man

All sorts of experiments with magnets from the very basic to magnets interacting with other magnets, magnets and conductors, and magnetic levitation.