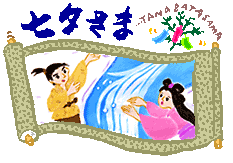 When you click on the sites below you will be leaving Tooter4Kids!
Please use an adult helper to guide you there. The helper can also read some of the folktales, if you can't.
Be patient, they are worth the reading.
Just click your back button to return to Japan by Tooter4Kids.

Omusubi Kororin - Tumbling Rice Balls

Chiisana Kid's Picture Dictionary


Click on the words below. You choose a subject to hear in Japanese:
[Animals]
[Fruits]
[Hand]
[Numbers]
[Person]
[Shapes]
[Vegetables]
[Copyright 1995-96 Japan Window Project by Stanford University and NTT]
http://jin.jcic.or.jp/kidsweb/folk.html