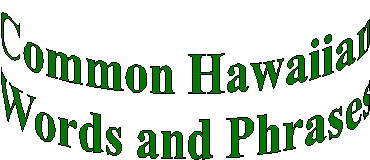 The Hawaiian alphabet contains 12 letters; seven consonants (H, K, L, M, N, P, and W) and five vowels (A, E, I, O, and U). Every vowel should be pronounced. Here is a pronunciation guide.
	a like a in above
	e like ay in play
	i like ee in see
	o like o in sole
	u like oo in moon

yellow-fin tuna

aikane (ai-ka-nay)
friend

alaea
red water-soluble soil used for coloring salt, for medicine and as a dye

aloha (a-lo-ha)
hello, goodbye, love, and many others

auwe (a-oo-way)
ouch

awa
native shrub whose root was used to make a narcotic drink

ewa (ay-va)
opposite direction from Diamond Head

haku
to compose, weave or arrange

hala
the pandanus tree, whose leaves are plaited into mats, baskets and hats

halau
hula troupe

hale
house

heiau
ancient place of worship

humuhumunukunukuapuaa (hoo-moo-hoo-moo-noo-coo-noo-coo-a-poo-a-a)
a tropical fish smaller than it's name

ieie
a woody climbing plant that grows in the mountains. One of five plants placed on the hula altar

ilima
native shrubs bearing yellow, orange, greenish or dull-red flowers

ipo
sweetheart

kalai waa
canoe carver

Kalakaua (ka-la-ka-oo-a)
main street of Waikiki, named after former king

Kalanianaole (ka-la-nee-a-na-o-lay)
major highway named for Prince Jonah Kuhio Kalanianaole

kamani
a large tree with white, orange blossom-like flowers

kane (ka-nay)
man

Kapiolani (ka-pee-o-la-nee)
main Honolulu boulevard named after a former queen

keiki (kay-ee-kee)
baby, child

kii pohaku
petroglyph

kokua (ko-koo-a)
help

kukui
candlenut tree, bearing nuts containing white oily kernels which were used for lighting by ancient Hawaiians

Likelike (lee-kay-lee-kay)
highway named after former prince

mahalo (ma-ha-lo)
thank you

lomilomi
to rub, press, knead as in massage

maile
native twining shrub with fragrant leaves

makai (ma-ka-ee)
to the sea

makamaka (ma-ka-ma-ka)
dear friend; preceded by na -- dear friends

malihini (ma-lee-hee-nee)
newcomer

mana
spiritual power

mano
shark

mauka (ma-oo-ka)
to the mounain

ohana (o-ha-na)
family

ono
large mackerel-type fish; delicious, tasty, savory

opakapaka
blue snapper

paakai
salt

pikake
shrub with small, white, very fragrant flowers (lilac)
Hope you enjoyed Hawaii.  Please go now to the Quiz and Puzzle Page.
(It is on the HOME page.)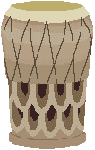 HOME